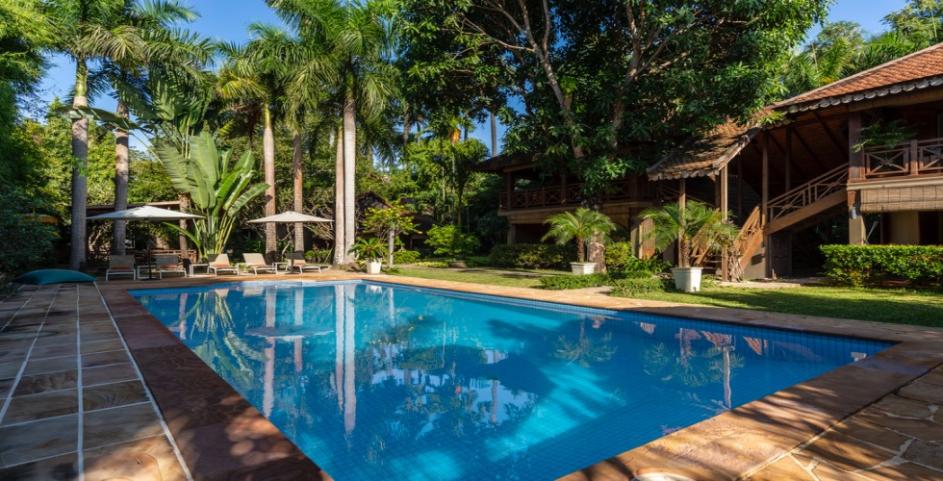 La Palmeraie d'Angkor
Enter a world of wonder far from the maddening crowds, in a lush tropical settings.

La Palmeraie d'Angkor was created as a unique dream getaway. Comfort, elegance and space await you in a zen-like, cozy and romantic atmosphere. Whether you are traveling alone, in a couple, or with family, you will find a calm and peaceful respite with personalized service at its very best.

The 5000 square meter site comprises 4 deluxe double rooms, a family suite, a pool and a private villa of 450 square meters with its exclusive swimming pool. Each of our elegant rooms, cottage and villa is tastefully furnished, boasting in-room amenities and modern technological conveniences including broadband Internet access – perfect for our tech-savvy traveler! They all come with spacious private balconies.

You will be able to enjoy all day-dining experience at our restaurant and fantastic wellness services for your unwinding pleasure.

La Palmeraie is also an ideal spot for you to spend your holidays with your family as we are fully equipped to welcome your little ones. From baby cots and highchairs to a baby-sitting service on request, you can put your mind at ease as we are here to make your stay as smooth as possible.

La Palmeraie d'Angkor is the perfect blend of simplicity and elegance to offer you a unique stay experience. You will feel at home, in an exclusive paradise, with our excellent staff who strives every day at answering all our customer's needs. We are here to help you to the fullest extent possible and share with you all the tips and tricks to get around the wonderful city of Siem Reap.When it comes to hotels, location is everything.

Find yourself at the midpoint of all the city has to offer. Secluded to offer you the serenity of heaven but close to all of Siem Reap's attraction, La Palmeraie is 5 min away from the city center and solely a 10min drive from the temples. .